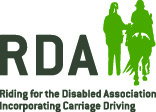 Dressage Anywhere and the Riding for the Disabled have teamed up for a second year to run the RDA Online Dressage Championships 2014.
Qualifiers opened in August 2013 and will run every month right up to March 2014.
Riders in each class scoring 60% or more will qualify to enter the Championship Show which will run during April and May 2014. Riders must be part of an official RDA group to be eligible to take part in the Championship Show.
Qualified riders so far (updated April 2014)
Grade 1a
Qualifier
Rider
Horse
Group
Score

October 13

Maria Le Roi

Fronerthig Delyn Aur

Kesteven Rideability

72.35%

January 14

Jane Busby

Rafferty

Cranleigh RDA Group

71.76%

October 13

Jackie Gosling

Rocket Station

The Shelley Centre for Therapeutic Riding

71.18%

October 13

Tracy Yarnell

Sox

Kesteven Rideability

69.41%

March 14

Lydia Rogers

McGregor

Muirfield Riding Therapy

68.24%

November 13

Naiya Hasson

Charlie

The

Shelley Centre for Therapeutic Riding

67.65%

February 14

Rebecca Rynor

Rhia

Barrow Farm RDA

65.29%

November 13

Sarah White

Emily

Kesteven Rideability

64.12%

March 14

Isabel Plummer

Rupert

The Shelley Centre for Therapeutic Riding

61.76%

November 13

Poppy Parrit

Patches

Mount Pleasant RDA

61.18%
Grade 1b
Qualifier
Rider
Horse
Group
Score

March 14

Mikhaila Ronaasen

Domino

Wellington and Dummer RDA

71.88%

February 14

Kath Wilkinson

Salsa

Mid Cheshire RDA

71.25%

August 13

Liz Gandy

Amber Cadanza

TBC

70.00%

March 14

Sarah Mitchell

Parys

The Shelley Centre for Therapeutic Riding

69.69%

March 14

Sarah White

Emily

Kesteven Rideability

68.44%

February 14

Emily Knowles

Lula

Barrow Farm RDA

68.13%

March 14

Kelly Jarrett

Domino

Wellington and Dummer RDA

68.13%

March 14

William Swire

Fergus

Barrow Farm RDA

68.13%

March 14

Deborah Miller

Memphis Tennessee

Tradissar RDA Hampshire

67.50%

March 14

Venessa Palmer

Percy

Tradissar RDA Hampshire

67.19%

March 14

Ruth Snowling

Thyme

The Shelley Centre for Therapeutic Riding

66.88%

March 14

Claire Chamberlain

Domino

Wellington and Dummer RDA

66.56%

November 13

Kyrby Brown

Corker

TBC

66.25%

March 14

Tracy Yarnell

Emily

Kesteven Rideability

65.31%

August 13

Patricia Mallett

Sulley

Buckenham House Group RDA

65.63%

November 13

Amelia Griffiths

Toffee

Mount Pleasant RDA

65.63%

March 14

Shelley Rees

Magnus

Tradissar RDA

65.63%

March 14

Maria Le Roi

Fudge

Kesteven Rideability

65.31%

November 13

Meghan Hallihan

Bow

Mount Pleasant RDA

65.00%

March 14

Sophie Taylor

Alfie

Tradissar RDA

64.69%

March 14

Kim Rice

Jet

The Shelley Centre for Therapeutic Riding

64.69%

November 13

Morganna Luke

Patches

Mount Pleasant RDA

64.38%

March 14

Ola Morgan

Laddie

TBC

64.38%

November 13

Eleanor Wilcox

Bow

Mount Pleasant RDA

62.50%

November 13

Tia Champman

Toffee

Mount Pleasant RDA

62.50%

March 14

Tia Lucas

Baron

Tradissar RDA Hampshire

60.94%
Grade II
Qualifier
Rider
Horse
Group
Score

November 13

Emily Johnson

Fronerthig Delyn Aur

Kesteven Rideability

75.79%

February 14

Isabel Slack

Teddy

Mid Cheshire RDA

72.63%

August 13

Michael Hassell

Supacob

North Staffordshire RDA

68.95%

March 14

Kelly Jarrett

Domino

Wellington and Dummer RDA

65.53%

March 14

Diane Pettet

Lucky

Tradissar RDA Hampshire

63.42%

August 13

Lucy Kelly

Joker

Buckenham House Group Riding for the Disabled

61.58%
Grade III
Qualifier
Rider
Horse
Group
Score

March 14

Mary Leigh

Quinn

Mid Cheshire RDA

60.43%

March 14

Pauline Pearce

Alfie

The Friends of Beechley RDA

57.61%
Grade IV
Qualifier
Rider
Horse
Group
Score

February 14

Elizabeth Pennell

Backley Sam

East Park RDA

67.32%

November 13

Rachel Collins

Jolan

Scropton RDA, Derbyshire

64.64%