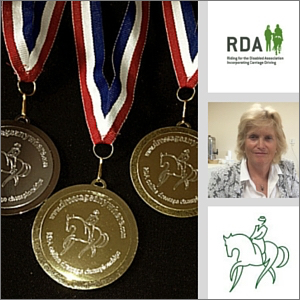 Gold, Silver and Bronze medals are awaiting our RDA 2016 Online Champions. Judged by a Rio Para and FEI 5* judge, Sarah Leitch commented that she was pleased to see the Championships in their third year so well supported by riders from many centres all over the UK.
Watch a special message from Sarah Leitch below.
As Sarah said 'I was impressed by the good standard throughout topped by an exceptional 80.83% test in the Grade 1a class'. Diane Green from Watershed RDA based in Cirencester, Gloucestershire rode the elegant grey Gunstone's Pride to show off a real partnership and an understanding with her rider. Diane placed second to win silver with her previous horse in the 2015 Championships and has gone on to achieve the highest scoring rider prize at the Para Home International at Vale View earlier in June with Gunstone's Pride, plus her team came 3rd!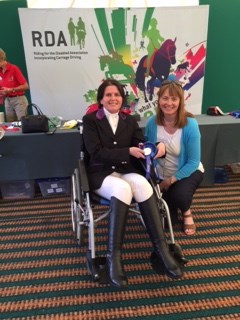 Diane (pictured left receiving her medal in 2015) has been riding with Dressage Anywhere since 2014 and is looking forward to coaching four riders to enter the qualifying classes for the 2016 RDA Online Dressage Championships.
Sarah feels the competitions are a great chance for disabled riders to be able to compete in the comfort of their own environment: 'this will hopefully allow many of them to progress and gain confidence and in due course may be able to venture further afield'. She hopes this may encourage them to participate in Para competitions.
Riders from RDA groups around the country rode in monthly classes to qualify for the Championship Show. For full results and our champions' videos see the scoreboard.
Placing

Rider

Horse

Group

Score

Grade 1a

1st

Diane Green

Gunstone's Pride

Watershed RDA

80.83%

2nd

Kirsten Paul

Aero

Cranleigh RDA

73.33%

3rd

Vanessa Earl

Kestrel

Cranleigh RDA

70.00%

Walk & Trot

=1st

Megan Wilkinson

Nashend Linkwood

Mid Cheshire RDA

66.88%

=1st

Elliot Simpson

Nashend Linkwood

Mid Cheshire RDA

66.88%

3rd

Charlotte Elliot

Kestrel

Cranleigh RDA

65.94%

Grade 1b

1st

Isabelle Cox

Tango

Barrow Farm RDA

71.56%

2nd

Taryn Cotton

Melody

RDA Machers

68.44%

3rd

Emma Suttle

Macie

Barrow Farm RDA

65.63%

Grade II

1st

Isabel Slack

Chief

Mid Cheshire RDA

75.29%

2nd

Jeanette Dixon

Nashend Linkwood

Mid Cheshire RDA

72.35%

3rd

Oliver Peace

Mr Ding

High Hopes RDA

69.41%

Grade III

1st

Oliver Peace

Mr Ding

High Hopes RDA

67.95%

2nd

Rebecca Brown

Prince

Penniwells RDA

65.91%

3rd

Mary Leigh

Quinn

Mid Cheshire RDA

63.86%
See our schedule for June and July RDA classes and look out for the next RDA Online Dressage Championship qualifying classes which open in August.
New for 2016: classes with five or more entries will be awarded prize money! Check our rules: rosettes and prizes for more information.