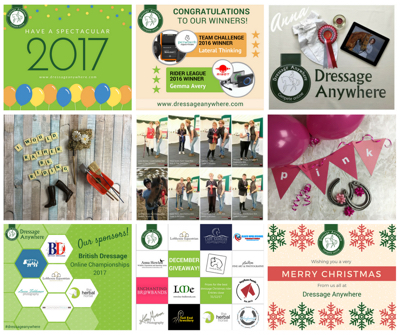 We celebrated our seventh birthday in January 2017 and as we rapidly approach our eighth birthday, here's a review of our year!
We saw the introduction of some new competitions - The Wobbleberries Dressage Challenge and Veteran Horses, giving more opportunities for riders to get involved in dressage. We also introduced open and restricted sections to our Intro, Prelim and Novice classes. With a growing number of competitors taking part every month, we wanted to make sure our competition classes remain fair for all.
In March Ruth was a guest speaker at the first RDA Dressage Conference, a day full of inspiring and informative presentations and demos and we've since seen a huge increase in RDA competitors, all working towards their Online Dressage Championship qualifications. As always it's a delight to spend time at the RDA Nationals in Hartpury talking to our members and awarding medals to our Online Champions in the main prize ceremony.
Gold, silver and bronze medals went to our The Pony Club Online Dressage Champions and we hosted the fifth British Dressage Online Championships with a suite of amazing new sponsors. We had the biggest entries we've ever seen in an online championship. With competitors from all over the world taking part, it's no wonder that many of you have added this event to your list of goals for 2018!
October was wearitpink month where we donate £1 from every 'pink' entry to Breast Cancer Now and you guys were amazing helping us to raise £150 to go towards vital research.
The fifth Jim Boyle's Ex-Racehorses League came to a close at the end of November after 10 months of competitions where riders earned league points for prizes. The Champion and Reserve Champion each received a cheque from our sponsor and a Championship rosette. We're looking forward to running this one again for 2018.
Our December giveaway has been amazing and we've loved seeing your Christmas fancy dress outfits, not just limited to riders either!
All that remains to say is a huge heartfelt thank you for the support from our members, the generosity of our sponsors and the hard work from all of our BD List 1 and 2 judges. We love what we do and we love creating opportunities for more people to get involved in dressage. 2018 is going to be awesome!
Ruth x