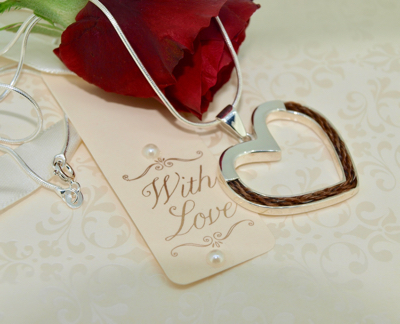 Alison is the lovely lady behind Tail End Jewellery and sponsor of our February Novice class. Find out more about how Alison started out and the lovely pieces she makes by hand.
To most of us a horse is not just a horse. That special bond we share with them is like nothing else. They can teach us so much, help us get through so many events in our lives, be our constant friend, provide us with an escape from working life and fulfil our dreams. When the time comes and you sadly lose that special friend it can be devastating and the loss hard to take and deal with. So imagine if you could tangibly touch an actual little real piece of them forever more, they would then always be with you in some small way.
For over 17 years I have been very privileged to be entrusted with my customers horse's hair, turning it into unique pieces of jewellery to help keep those special memories alive. It has become not just a business and a job but a love and a passion and I feel very lucky and honoured to spend my day doing something I thoroughly enjoy. Hearing customers feedback and testimonials about how it has helped them is the icing on the cake!
My business started when I learnt about Victorian Hair Art and how it was seen and worn as sentimental jewellery. After much experimenting (and mine and my friends poor horses donating much of their tail hair!) a few pieces were designed and it took off from there. Tail End Jewellery was launched and has grown over the years with many customers coming back to have further pieces made from new horses they have acquired.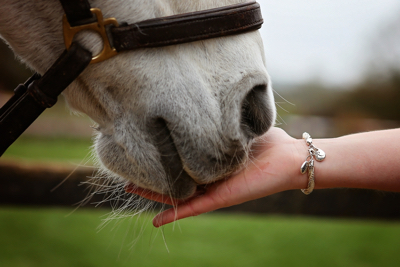 The orders can come at difficult times for my customers when they have recently lost a friend but not always. Sometimes it's just a celebration of a bond they share with their horse and they want to feel close to them when they are away from them and sometimes its a special and very individual gift for a family member or friend. Each and everyone tells a story and the hair and order, is always treated with the care, love and respect it deserves. The piece can take several hours to make as it is all done by hand, there is no machine that replicate the intricate and fine braiding that is unique to my jewellery. Once the braid is made to finish the piece we use precious metals fittings - quality sterling silver, 9ct gold or rose gold vermeil (gold over sterling silver).
Every year I bring out some brand new designs and ideas. These can come from customer requests, looking and following the latest jewellery trends and frankly just what I think will work and look stunning! This whole designing process can take several months to achieve especially if I need specialist fittings designed, drawn and cast. 17 years on we now have a wide range of jewellery to choice from - over 40 styles of bracelets, necklaces, rings, stockpins and pendants. But I also love a challenge so if you don't see quite what you would like then do please get in touch with your idea!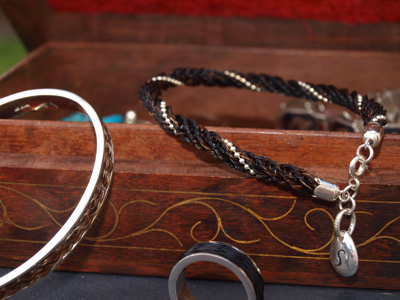 This year already, I have released a Square Braid Bracelet Range, of which we have two different patterns of braiding - the Bounce Bracelet and the Arrowhead Bracelet. But keep your eyes peeled as there are many more new pieces to reveal over the next few months and I am very excited about them! If you haven't already visited my website www.tailendjewellery.co.uk do take a look to see all the pieces I make, prices and how to order. You can also follow me on Facebook, Twitter and Instagram.
Tail End Jewellery is sponsor of our Novice class offering some fabulous prizes: 1st Piaffe Bracelet, 2nd Circle of Friendship Necklace, 3rd Swarovski Bead Leather Bracelet.