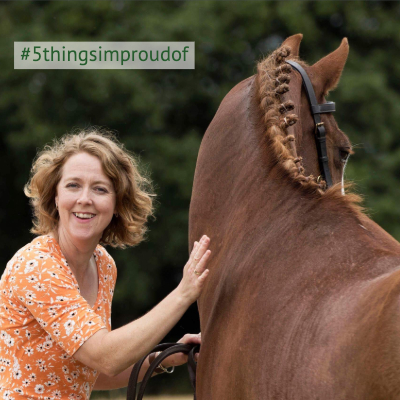 Our friend and all round superstar PR and business coach Rhea Freeman has started a new initiative over on Instagram: #5thingsimproudof. Ruth from our team has been reflecting on 2018 and has come up with her top five things to be proud of.
1. 1000 rosettes awarded
I know, I know, I always say it's not all about the frillies; it's about what you learn and taking the feedback from judges on board, reflecting on your performance and thinking about what went really well and what you can do better next time. But it is a lovely feeling to place in a competition and receive a rosette for your efforts and we've awarded nearly 1000 rosettes to our lovely members this year. Huge thanks to our friends at Darlow Rosettes for helping us make a few dreams come true.
2. Milestones
We've hit a couple of milestones in 2018: celebrated our 8th birthday in style with the 8 days of Dressage Anywhere competition and we've also judged over 10,000 dressage tests from around the world. That's a lot of people who have been given the opportunity to ride a dressage test at home and have been judged by a BD List 1 or 2 judge.
3. Champions
We've crowned 15 Champions so far this year and there's 11 more to go! During 2018, the RDA Online Dressage Champions were awarded with medals at the RDA Nationals held at Hartpury. We announced the winner of the Jim Boyle's Ex-Racehorses dressage league and we awarded 8 BD Online Associated Champions with special championship rosettes. There's still the BHS league, Rider League and Team Challenge to go.
4. More microfibres of joy and happiness
It's not all about work is it? Early in 2018, the Chappell household saw the delivery of a new member. Some of you might remember losing our older dog in 2017 and his pal Henry has made a few appearances in our Instagram feed. On 14 February a little bundle of joy was born and stole our hearts. His first appearance was at Badminton Horse Trials where he stole a few more hearts. There's something special about the companionship of a dog (or two) and I love the idea that they don't shed hair; it's microfibres of joy and happiness!
5. Our members
My final thing to be proud of is our members. Some have ridden dressage with us from the very beginning and others have really got into it this year. I love talking to them all, whether it's a quick call to check something, meeting them whilst we're out and about or seeing them proudly share their rosette pictures with friends. I love that we have created this opportunity for so many people to ride a dressage test at home and then receive feedback from some of the highest listed judges in the country. And so many spend the following month schooling and applying the feedback to then improve in their next competition.
Pop over to our Instagram or Facebook page and share your top #5thingsimproudof.
Ruth x