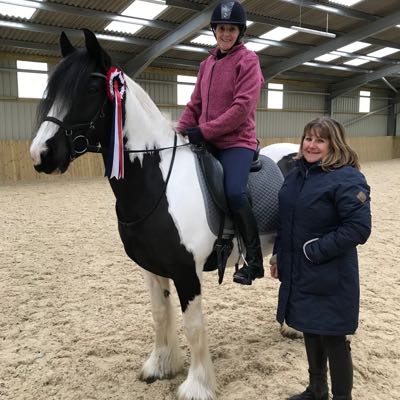 Our next Champion Born to Shine on the Centre Line is Diane Lowes from Buckinghamshire. Diane and Jessie placed 2nd in the BD Online Associated Championships 2018 at Introductory Restricted.
When and why did you start riding?
I had a passion for riding from birth and have been riding since I was about five.
Tell us an interesting fact about yourself!
Knowing what I know now I wish I had become a vet!
Tell us a bit more about your horse
Miss Moon Boots (Jessie) is a 7 year old, traditional gypsy cob piebald mare.
Where did you find each other and how long have you been a partnership?
2017 had been a tough year, falling off, having a full hip replacement then losing my horse. I found Jessie locally she was an unschooled happy hacker. Fortuitously I discovered that my dressage trainer/coach, Sarah Hawkins, knew the horse quite well and highly recommended her as long as I was prepared for the hard work to turn her into a dressage horse! I bought her in February 2018 and we have had a really fun year particularly enjoying competing with Dressage Anywhere!
---
See also
BD Online Associated Championships 2018
---
Have you got any interesting stories or anecdotes about your horse?
Jessie is a busy, nosy intelligent mare who seems to enjoy life!
What do you want to achieve in 2019?
In 2019 I would like to be successfully competing at Novice by the summer and Elementary by the end of the year. This would be a mix of Dressage Anywhere online competitions and going out to some shows. I would also like to qualify for the BD TGCA Championships.
What's your biggest challenge?
My nerves!
What's your biggest achievement to date?
Second place in the Restricted Section of the the Dressage Anywhere Intro BD Championship (3rd overall)!
How did you first hear about competing with Dressage Anywhere?
I heard about Dressage Anywhere on social media and I love that I can compete without going out to a show.