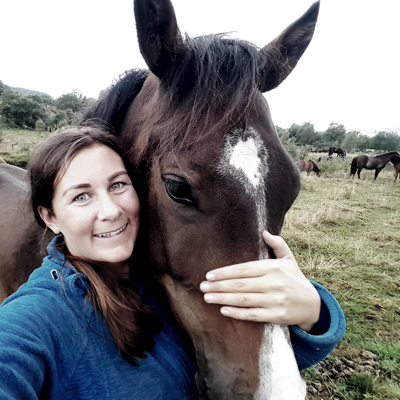 Cecilie Vatne and Valli from Norway are Dressage Anywhere regulars consistently placing in our Prelim and Novice online dressage competition classes. The pair were also 2018's Rider League Reserve Champion, so it's about time we caught up with Cecilie to find out more!
How did you get into horses? And what age were you?
I've liked horses since birth, but wasn't allowed to ride before I was six years old. When I first got on a horse, I knew this was my life.
Tell us an interesting fact about yourself!
When I was 18 years old I had a riding accident with a big horse that reared and jumped in the air, I fell off and the horse fell on top of me. I broke my back so now I am completely scared of big horses. That is why my horse is small, haha! My back is completely fine now.
Tell us a bit more about your horse
Heartbreaker Valentino also called Valli day to day is a five year old dark bay.
Where did you find each other and how long have you been a partnership?
Actually it's a sad story. I lost my old horse and he lost his owner so it was kind of meant to be timing-wise. He was only two years old when I first saw him so my heart totally melted. I travelled to the other side of Norway to find him and I'll never regret it. We've been together for three years and I love this horse.
Have you got any interesting or funny stories about your horse?
Well he loves to sabotage my events, whether it is to buck in the dressage events or throw me off when I try to jump. And he sees ghosts everywhere. So Dressage Anywhere is perfect for us so we can get feedback on something else. He loves attention and will do anything to get it.
What level do you compete at?
We did so well in the Intro classes last year, so now we are riding Prelim and Novice. This is also the competition we compete in back home. In Norway we don't have Intro classes, it starts with something in between Prelim and Novice. So I loved that I could compete in a lower class since he is so young.
How do you prepare for a dressage test? Any top tips?
I draw the dressage movements in colors in the gait I am going and where I am going on paper. And I have never forgotten a test since. Also when I want to ride a straight line I don't look at the letter I am riding towards, but I find a spot on the roof or in the sky over the letter, it's much straighter this way.
---
See also:
2018 Rider League Champions
---
What horsey product or item could you not live without and why?
Am I allowed to say carrots? Haha. When I try to teach him something new from the ground, he learns much faster if he gets a treat. He is so clever he has me hooked around his little hoof. I shouldn't admit that, but it is true! Now we are working on square halts.
What do you want to achieve in 2019?
My goal is to get 70% in a Novice test. I know it is going be hard, but hopefully the feedback from the judges over the months can get me there. And we are working really hard - 65.71% in our very first Novice test. I'm not sure if we can do that, but we are going to try and that is a goal, wouldn't you say?
What's your biggest challenge?
Oh dear - that is to get him to behave in a competition at home, haha! I have a rule that I never film a Dressage Anywhere test more than twice to get the pressure up. So I can learn to handle that.
What's your biggest achievement to date?
We got a really good score in the Preliminary class last month. And at home in a competition we got 71.6% and 3rd place and I am so proud. The events in Norway usually have two days competition and the first day he tried to buck me off, but the next day he was on the job.
How did you first hear about Dressage Anywhere?
I heard from a friend at the stables, and her friend met Nereide Goodman when she was judging in Norway. I was so lucky to meet Nereide myself when I was at my second competition in the class for four year olds last year. We did lose that competition, haha!
What's your favourite thing about Dressage Anywhere?
The feedback from the judges. We are learning and growing so much with it, even the comments we don't like, haha! We are working really hard to do better and increase our confidence. What I love about the judges, is that they give you constructive feedback, so you don't lose your confidence if you have a bad ride.
What would you say to someone just getting started in dressage?
Just do it! You can hide your video if you don't want anyone to see it. I choose to show mine so others can learn from it. My first test was really bad, but i worked my way up. The judges can teach you so much if you just let them. I love this concept!