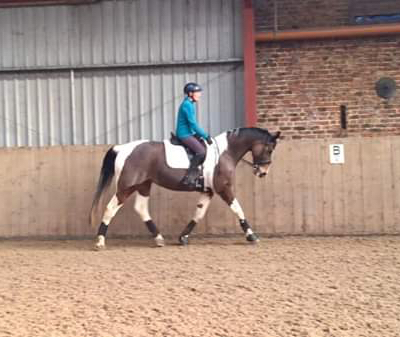 Carol Sanderson from North East Lincs placed 5th in March's Novice class with 69.57% and then 2nd in April's Veteran Horse Novice competition with 66.09%. We caught up to find out more.
How did you get into horses? And what age were you?
I was three when I became besotted with horses after my Dad took me to Morecambe beach for a pony ride.
Tell us an interesting fact about yourself!
In 1999 I was in the team representing North Lincs in the Quadrille at Olympia, carrying a light sabre and dressed as an alien!
Tell us a bit more about your horse
Asgard known as Grazy Lady, a 21 year old skewbald Dutch warmblood by Samber.
Where did you find each other and how long have you been a partnership?
At the place I went for lessons in 2008. I bought her the following year and we became happy hackers.
Have you got any interesting or funny stories about your horse?
Grazy makes me laugh when she 'shies', pretending to be scared of very familiar things! E.g. the mounting block in the school which she will happily stand at whilst I get on, yet shies at when we have to trot or canter round it!
How do you prepare for a dressage test? Any top tips?
As she is an older horse, I spend more time in walk doing suppling exercises. She anticipates movements so I try not to string them all together when preparing.
What horsey product or item could you not live without and why?
My blue fleece ear muffs that keep the wind out in winter!
What are your goals for the future? What do you want to achieve in 2019?
Move up to Elementary.
What's your biggest challenge?
Not being strong enough in my core to hold the big girl together!
What's your biggest achievement to date?
Doing a dressage test again after 20 years.
How did you first hear about Dressage Anywhere?
From an ad in a horsey magazine which I cut out and kept as a reminder.
What's your favourite thing about Dressage Anywhere?
You can do it anywhere so don't need to rely on others for transport and it happens regularly.
What would you say to someone just getting started in dressage?
Dressage Anywhere is a good place to attempt your first tests as it feels less intimidating and makes your training more focused as well as giving you valuable feedback.