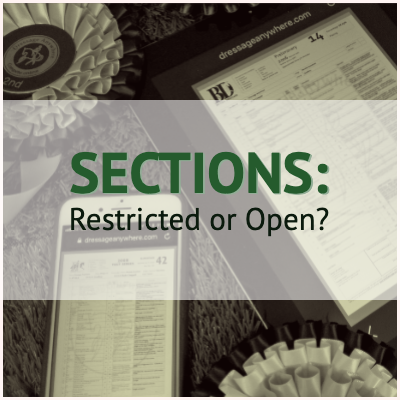 Are you uncertain about our Open and Restricted sections and what they mean? We explain all here...
Our Introductory, Preliminary and Novice classes all have two sections that riders can choose to enter. The Open section is for riders who consistently score high percentages with Dressage Anywhere:
70% at Intro

68% at Prelim

66% at Novice.
Once a horse and rider combination achieves the above scores five times or more with Dressage Anywhere, they'll be automatically moved to the Open section.
If a horse and rider is experienced at a specific level and used to scoring high in other competitions, they can choose to compete in the Open section.
The Restricted section is for those fairly new on their dressage journey and enables them to compete more fairly with similar horse and rider combinations. Our rosettes are awarded by section and prizes are awarded to overall placed riders in each class.
If you have any other questions about sections, get in touch and we'll do our best to help.