A regular Dressage Anywhere competitor, Gill Lygo-Hackett was our lucky April Bossy's Bibs ManeGuard winner. Gill's horses, Merlin and Leo (pictured left top to bottom) have been taking it in turns trying it out for size.
Gill said, 'I must admit to not having heard of the product before, I have had various makes of shoulder guards in the past all ok up to a point but none have made me dash out to get another. When the competition came up I put my name down with no great expectations so it was a great shock to win and when the mane guard arrived I was surprised, as what I had managed to glean about it did not do it justice.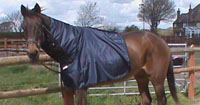 The guard is easy to put on and take off. Merlin has never worn a bib on before and can be very reactive whereas Leo, my 30 year old, lost the sight in one eye earlier this year and because of this he can panic but I have had no problems with either of them. The material, whilst hard wearing can scrunch up really easily to virtually nothing making it a doddle getting it over their heads. The bib itself is very generously cut and doesn't move when fastened at the front.
Leo developed a wither sore and I was quite desperate as to what to do as he needed to wear rugs so he wore the bib and within no time the sore had healed. Their coats are so lovely and soft when you take the bib off.
The Bossy's Bib Mane Guard is fantastic - it is one product that I can truly say "does what it says on the tin"! Everyone who has seen my boys wearing it has been very impressed and envious. I know what is on the 'boys' Christmas list - another one so they don't have to share.
Thank you to Bossy's Bibs and Dressage Anywhere for offering this wonderful prize, I am thrilled to have won it!