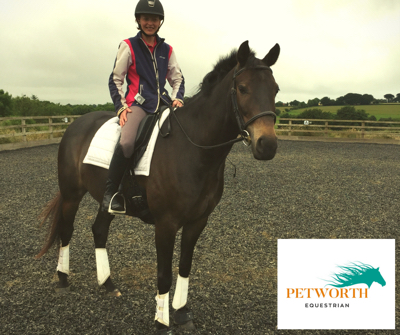 Gemma Avery and Mountaintowne Wild Fire were our 2016 Rider League winner and won a Ceecoach Communications system, kindly provided by the league sponsor, Petworth Equestrian! Read Gemma's story here.
I am so proud of this little horse, he is still only seven years old (which I know in professional circles is quite old) but he doesn't find this Dressage 'thing' easy, while he does try hard to understand and give what he can.
We were very happily surprised to start 2016 at the top of the Rider League standings but did not expect to stay there very long, let alone be in that position at the end of the year and take the win! We even managed to qualify for the BD Online 2016 Championships, finishing 6th, 2nd and 1st respectively.
Dave (as he is known at home) is a typical TBx, he likes to spook at monsters from time to time, something that has caught me out a couple of times. We were once in the middle of filming a test, when Dave spotted something that I didn't, which resulted in our canter turning into a leap sideways and a buck, followed by me sailing face first into the rubber. Oddly enough we didn't submit that attempt.
With the help of our trainer we have now worked out that most of the spooking can result from Dave finding a particular exercise very hard to either understand or carry out. We have now found different ways to help Dave learn without him having to use spooking to tell me he has an issue.
I have always wanted to bring Dave on at steady pace as he was a slow developer both physically and mentally. With the help of our professional helpers (our trainer and equine osteopath) we have worked out a way to build up our strength. I then discovered Dressage Anywhere. I was interested to get feedback from the listed judges on our progress and to check that we were following the scales of training. The comments and suggestions from the judges have really helped us to highlight areas we need work on most. Being able to compete online means we can get this feedback and be in with the chance of winning a rosette. All this with the benefit of not having to travel anywhere, this proved even more helpful last summer, when my 24 year old 4x4 failed it's MOT to the point I had to take it off the road for good!
I have just managed to raise the money to purchase a new car, therefore my main goal for 2017 is to take Dave to his first live dressage competition and to continue to progress our training. We made the step up to Novice level with Dressage Anywhere in August 2016, it would be really nice to be able to get to the same level at affiliated competitions.
The 2017 Rider League is underway and Petworth Equestrian are kindly providing another Ceecoach communications system to the league winner!
If you can't wait to get your hands on one until then, visit the Petworth Equestrian website and use the discount code DA17 to claim an exclusive 5% discount.