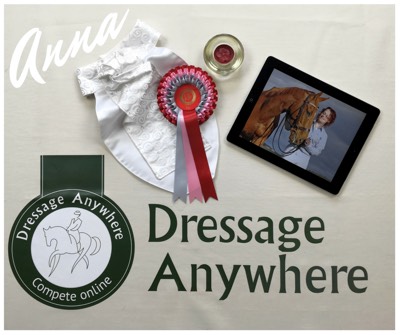 In the next part of our series, Born to Shine on the Centre Line, we meet Anna Cooper from Cumbria who has been competing with us since January this year.
How long have you been riding?
I've been riding for 21 years and currently compete in unaffiliated competitions.
Tell us an interesting fact about yourself!
I'm a green belt in kickboxing!

Tell us more about your horse
Cloggy Powell is a 10 year old TB chestnut and we've been together for one and a half years. He has been through the wars having had stomach ulcers and a scary field accident so he was out of action for a good seven months. He is such a softy, so friendly and great with my daughter who is not horsey at all. Every time she comes to the yard he sniffs her and follows her round for treats.
What do you hope to achieve in 2017?
I would like to be competing in Preliminary competition classes.
What's your biggest challenge?
My ultimate goal would be to compete at Badminton in the grass roots but that's a long way off yet I'm just happy I have him.
What's your biggest achievement to date?
My Dressage Anywhere scores!
How did you first hear about competing with Dressage Anywhere?
A friend from my new yard told me about it.
What's your favourite thing about competing with Dressage Anywhere?
There is no stress and as I don't have transport it's great as it means I can still compete.
If you've placed in one of our competitions and would like to share your story, get in touch at info@dressageanywhere.com.