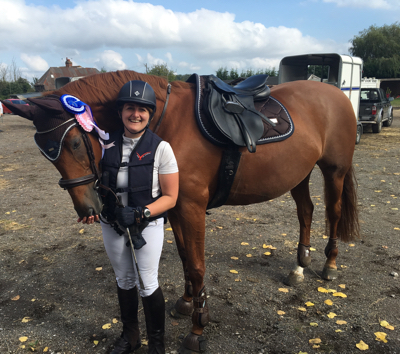 We're delighted to welcome 21st Century Rider as sponsor of this month's Novice class. Find out more about the person behind the brand, plus her inspiration and love of technology.
Hi, I'm Vicki Wise and I started 21st Century Rider at the beginning of 2017. I am so delighted to be working with Ruth and Dressage Anywhere and sponsoring the January Novice class.
Just to give you a little bit about me. I've had a love of horses since I was old enough to walk! I rode weekly at a riding school as a child but never got to have a pony of my own. That really gave me the push to go and get a career as a fully qualified Accountant so I could then afford my own.
I now own a lovely 15.2hh Irish Sport Horse Chestnut mare, Grace. She has inspired me to do so much over the past few years, and was my faithful partner for the Willberry Wonder Pony Wobbleberries Challenge last year. We completed our BE80 challenge at Chilham Park in April 2017, ended up doing two more BE events and are now planning our 'official' BE season in 2018!
So, to the bit about why I started 21st Century Rider. I've always been close to technology given my upbringing, (we were probably the first to have a computer on our street! (showing my age!). My Dad was always the 'man who can fix it' for anything electrical or electronic, so inevitably it had had an effect on me. My vision for 21st Century Rider is not just about 'electronic gadgets', but rather to find products to help every rider and not just the elite or top riders. I am also keen to look at modern ways of thinking and research that can help improve our understanding of our horses, their welfare and ultimately enrich the amazing and spellbinding relationships we have with them.
I am proud to say we have become a UK stockist of Equisense Motion, which we like to think of as a 'fitbit' for horses! The horse wears the motion sensor underneath it in a universal girth attachment and the sensor is linked to a free smartphone App (available for both Apple and Android) via Bluetooth and it gives the rider feedback on their riding sessions with features such as number of transitions, how long is spent in each gait, time spent on each rein, elevation, stride length, cadence, asymmetry which can be used as an early indicator of lameness. I've been using Equisense Motion for over a year now, and it has been brilliant for me to follow Grace's progress, especially as dressage is not our strongest phase!! Equisense are also constantly working on new features, which will be available to download for free. Their last update contained training exercises on the App! I'm constantly on the lookout for other products that fit the 'modern' bill and also am designing some products of my own which I hope to launch at some point! I wish you all the very best of luck with your Dressage Anywhere competition - happy riding!!
21st Century Rider is sponsoring the January Novice class with cash prizes - you can enter the competition here.