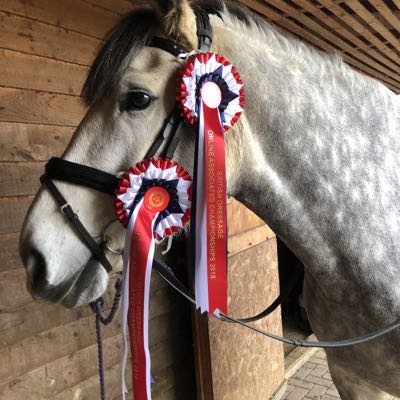 Sharon Cooknell and Sun Delight from Lincolnshire placed 1st in the Novice Restricted and 3rd in the Elementary classes in the British Dressage Online Associated Championships 2018. Find out more about this fab partnership that has been competing with Dressage Anywhere since 2015.
When and why did you start riding?
When I was three years old with my auntie after my dad passed away from cancer. She'd had horses for years and I was soon hooked!
Tell us an interesting fact about yourself!
I had thyroid cancer 10 years ago so after three operations and recovery I purchased my first horse - life is too short!
Tell us a bit more about your horse
Sun Delight (Penny) is an 11 year old Irish Draught roan grey (now dappled).
Where did you find each other and how long have you been a partnership?
Six months after purchasing my first horse (16.3hh grey gelding) I was allowed to purchase a second, adamant it wouldn't be a mare! I tried several and then there was this horse in a stall in Leicestershire. The seller knew I didn't want a mare so didn't mention that to start with but the eyes looked at me and then I was smitten so five years down the line and being a six year ID, she has grown lots but I wouldn't change her tantrums and face pulling for the world.
---
See Also
BD Online Associated Champions 2018
---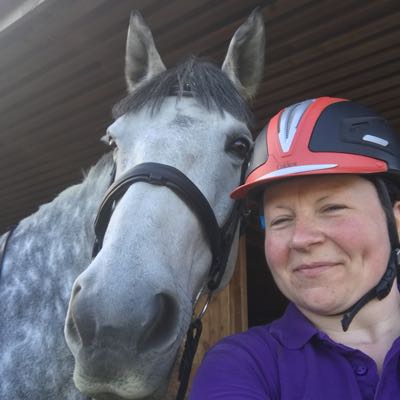 Have you got any interesting stories or anecdotes about Penny?
She is very demanding and very much a tomboy - definitely no lady!!
What level do you compete at?
Novice and Elementary dressage but we were meant to compete in show jumping, which we have done too just not for awhile as don't have any brakes!
What do you want to achieve in 2019?
To improve our scores at these levels and I'd like to jump again.
What's your biggest challenge?
Suppleness and relaxation.
What's your biggest achievement to date?
Winning the Novice Dressage Anywhere Championships amongst many.
How did you first hear about competing with Dressage Anywhere?
Online search engines for ways to compete from home.
What's your favourite thing about competing with Dressage Anywhere?
High listed judges with constructive feedback.