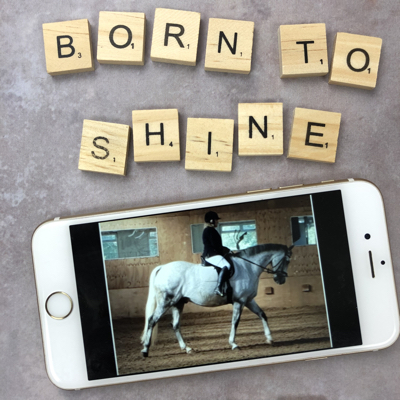 Lyne Jacobs and Lyric from Surrey placed equal 9th in April's Introductory Restricted Competition Class. In our latest Born to Shine on the Centre Line interview, we find out a bit more about them.
How did you get into horses?
I've loved ponies from as far back as I can remember!
Tell us an interesting fact about yourself!
I didn't get my first horse until I was 50.
Tell us a bit more about your horse
Lyric (Crannagh Optimist) is an 11 year old Irish Sport Horse.
I bought him from a local lady who had imported him from Ireland when he was three, backed and broke him. She then sold him to a lady in Guernsey when he was five. She then had him for three years sent him back to the local lady to sell, who I bought him from. Its reassuring knowing his history from when he was three.
Have you got any interesting or funny stories about your horse?
I was recently at a local show and met a half sister of Lyric's (same sire).
What level do you compete at?
Intro/Prelim
How do you prepare for a dressage test? Any top tips?
Panic, forget the test then hope for the best!
What horsey product or item could you not live without and why?
Better 4 Hooves as his hooves get dry during the summer months.
Goals What are you goals for the future?
To complete a Novice test.
What's your biggest challenge?
Remembering dressage tests!
What's your biggest achievement to date?
Coming 1st in a local competition and qualifying for the sunshine tour.
How did you first hear about Dressage Anywhere?
My instructor told me about the website.
What's your favourite thing about Dressage Anywhere?
The constructive comments from judges on the scoresheets.
What would you say to someone just getting started in dressage?
Keep at it, and only compete with yourself, just aim to better your score and don't worry about others.