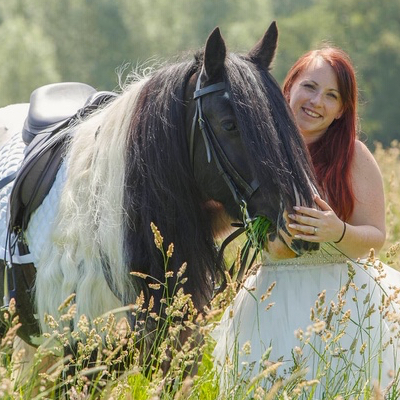 Leigh and Mavis from Leigh-on-Sea in Essex placed in April's Introductory Restricted competition with 67.71%. We love seeing Leigh's Instagram updates on preparing for and riding her tests so we caught up to find out a bit more about Mavis.
How did you get into horses? And what age were you?
My mum took me to a western show when I was six and I instantly got the horse bug at the show - I even got to sit on a reining horse. I had riding lessons from that day onwards.
Tell us an interesting fact about yourself!
The horse I sat on at the western show was a direct descendent to Downlands Cancara the Lloyds band horse. The owner had worked with Cancara and was lucky enough to breed from him.
Tell us a bit more about your horse
Mavis is a seven year old piebald Traditional Gypsy Cob. I found Mavis three years ago when my confidence was in tatters. I decided my search criteria was for a been there and done it 10 year old, solid coloured, dressage horse. I went to look at her just to satisfy my husband and came away with a four year old that had only been off the Rainham marshes for two months.
Have you got any interesting or funny stories about your horse?
Mavis loves taking selfies with my husband Pete but will never take one with me, He even sends me the pictures. Mavis is the most sociable pony It takes ages to get her to the field in the morning as she stops and says 'Hi' to everyone.
What level do you compete at?
Intro but we are trying our first Preliminary this month.
How do you prepare for a dressage test?
Pre test I run through the test only once before filming otherwise Mavis guesses the next movement. I keep our workload varied including flat, creative polework, hacking and free schooling after all variety is the spice of life. I keep my warm up the same which includes giving her time to stretch. Finally anyone that sees Mavis says she is a really forward going cob and that is all down to transitions, transitions, transitions.
What horsey product or item could you not live without and why?
Too many to name but maybe my Thorowgood T8 cob saddle as it's super comfy, has a leather seat but most importantly an adjustable gullet. Over the last year she has matured and has gone up three sizes in gullet, this would be expensive if I had to buy a new saddle every time she changed shape.
What do you want to achieve in 2019?
Another rosette would be nice and to beat our current personal best score of 67.71%. I'd also like to give cross country a go.
What's your biggest challenge?
Overcoming nerves and being too self critical.
What's your biggest achievement to date?
I cantered Mavis along the edge of an open hay field for the first time ever.
How did you first hear about Dressage Anywhere?
I think I saw an advert and I was too scared to travel her anywhere for fear of her spooking so though it was a great idea.
What's your favourite thing about Dressage Anywhere?
I can plan it around my work and home life.
What would you say to someone just getting started in dressage?
If I can do it, you can do it to!