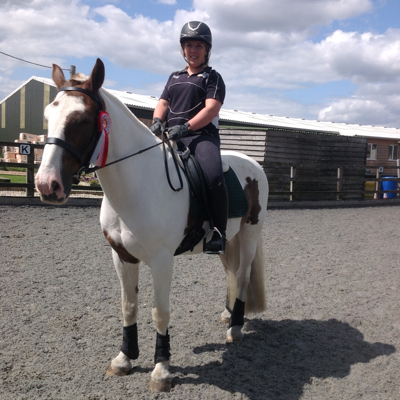 The next star of our Born to Shine on the Centre Line feature is Ashleigh Faulkner and Tonto from Aylesbury in Bucks.
How did you get into horses? And what age were you?
I was five years old when I got into horses.
Tell us an interesting fact about yourself!
I have a cocker jack called Ollie!!!
Your Horse Tell us a bit more about your horse
Tonto is a 14 year old skewbald Irish cob.
Where did you find each other and how long have you been a partnership?
I teach his owner Trina, I started riding him and competing him six months ago.
Have you got any interesting or funny stories about Tonto?
He is madly in love with Welsh section a ponies!!
What level do you compete at?
Novice/Elementary
How do you prepare for a dressage test? Any top tips?
I take my time at home to learn the test throughly and practice all the movements individually before linking it all together.
What horsey product or item could you not live without and why?
My dressage saddle - it allows me to sit in a classical position which means I can ride him to the best of my ability.
What are you goals for the future? What do you want to achieve in 2019?
Complete an elementary test and get over 68%.
What's your biggest challenge?
Elementary 59!!
What's your biggest achievement to date?
Winning my section in our last novice test.
What's your favourite thing about Dressage Anywhere?
Good judging and allows you to compete from home.
What would you say to someone just getting started in dressage?
Try out Dressage Anywhere for great feedback and constructive advice.