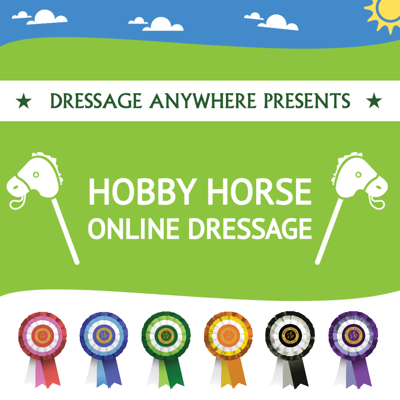 Join us for our one-off Hobby Horse Online Dressage Competition in aid of the NHS Charities Urgent Appeal!
Everything you need to know about entering and 'riding' your test is here. If you have any questions at any time, drop us a line on e-mail and we'll do our best to help.
Rules
General rules
Film from C (the judge's position)

Try not to film into direct sunlight.
Entries
Any rider is free to register and enter

Sound must be on (for our amusement mainly)

Entry fees will not be refunded once an entry has been accepted

£8 of every entry will be donated to the NHS Charities Urgent Appeal.
Arena
You don't have to 'ride' your test in an arena, a space set out in your garden or living room is fine!
Try to mark out the arena with props like brooms or bits of wood and use plant pots as arena letter markers. We'll publish a picture or two plus video to give you a bit of inpiration.
Home Produced Hobby Horses
This is a great opportunity to be as creative as you like! You can buy a hobby horse from Amazon or have a go at creating your own with a broom, socks, bits of wool and buttons for eyes. Have a think about plaiting your horse's mane as well!
Have a look at some World Class horses at Laurel Designs.
Acceptable Dress and Tack
Dress can be informal but tidy, extra marks will be awarded for turn out, so dust off your show gear and polish those boots.
Any 'tack' can be used.
'Riding' Your Hobby Horse Test
Some of our classes include tests that we've created especially for this, see the links in the schedule to download your test sheet. If you have any trouble remembering your test, don't worry commanders or callers may be used!
Schedule
Click here to view the schedule. Choose from:
Class 1: Novice Hobby Horse Dressage Test (our own test)

Class 2: Grand Prix Hobby Horse Dressage Test (our own test created by Alice Oppenheimer)

Class 3: Freestyle to Music - including BD Novice, BD Medium, Inter I and Grand Prix

Class 4: The Pony Club Intro to Dressage

Class 5: The Pony Club Open Freestyle Test

Class 6: RDA Hobby Horse Dressage Test (our own test)
Rosettes and Prizes
Rosettes will be awarded up to 6th place in each class. As for prizes, we're working with sponsors to provide items for a prize draw that every entry will be entered into!
Soon to be announced - judges and sponsors!