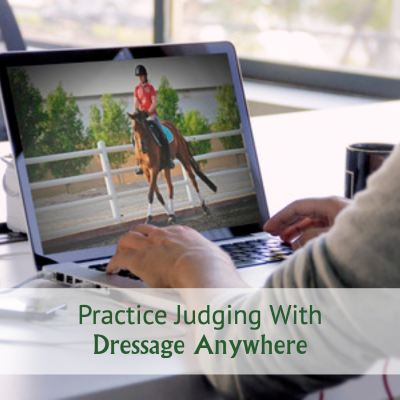 Brand new for 2021 we've developed a series to provide convenient practice judging or, if you are a rider or coach, to show what the judge is looking at the various levels. This of course isn't instead of watching tests live, but is an extra tool you can use.
>> Click here for the course website <<
Each series delivers videos and scoresheets. You can practice judging or watch from a rider or trainer's viewpoint. Simply watch the video, note down your comments and marks and then view a master judge's scoresheet for comparison.
The videos have been previously submitted to Dressage Anywhere and are provided with the rider's permission. BD List 1 judges, most of whom are also Tutor Judges, have assessed the tests.
Judging Online
The main difference when judging online is that the judge has more opportunity to look at a movement - the video can be stopped, rewound or forwarded if the movement requires further inspection. When judging live you do not have this luxury and have to be succinct with your comment and score. Some of the scoresheets you receive might give more information to the rider than would normally be possible. Some are from those who have entered our training classes, where the judge who is also a coach, has given comments from both a judge and trainer point of view. There may be more comments than would be possible in a live situation but hopefully this further information will be useful to you in your judging, riding or coaching activities.
Compare With a Master Judge
After each video you'll be able to view the scoresheet from a master judge to compare your comments and marks. When comparing your sheets it is important to realise that there is usually room for some discussion about a mark, particularly if one judge is focussing more on one issue than another. The reasoning for the mark is also important so try and consider it from both points of view to see if you can learn from the master judge's comments. If you want to understand more about how the master judge will be arriving at their marks you could check the British Dressage Judges Quick Response Reference Guide, particularly Section 2, page 5.
As Linda Whetstone, BD List 1 judge says: 'I really enjoy judging online for Dressage Anywhere because I can spend longer on each combination if there are things I would like to look at again or if I think a more detailed comment could be helpful although a judge should never forget that they are commenting on what they are seeing and not giving the rider a coaching session. However riders should not expect this amount of detail on their scoresheet when we are next out - which should be quite soon now. We hope you enjoy this opportunity to watch tests and read judges comments whilst shows are on hold. When the restrictions are relaxed the extra practice could still be really useful.'
The course launches with six videos and scoresheets in each Preliminary Series 1 and Novice Series 1, priced at £10.00 per series.